Propoganda for young nerds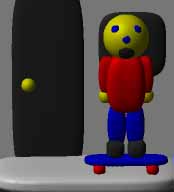 My favorite e-mails are from students who send me art made in Graphing Calculator. A teacher yesterday sent me this created by one of her seventh grade students. Check out those equations! (You can download the document here if you have Graphing Calculator or the Viewer.)
&nbsp
In 1994, Greg and I wrote:
Toward the end of the development of the Graphing Calculator, as the final user tests were being conducted, we saw students using the Calculator effectively within minutes, without instruction. Watching a high school student say "Wow!" as an equation came to life on the screen was probably the most satisfying moment for us as programmers.
That remains just as true today. I like to tell people that I make math toys. Seeing folks having fun doing math is what makes it all worthwhile.